In Kentucky, a tattoo parlor decided to offer people a free opportunity to hide their gang, hate, or racist tattoos.
Having a second chance.
Tattoos can be a nice way to express yourself, but for some who have been involved in gangs or hate groups in the past, they can be a very visible reminder of a mistake. Because tattoo removal is such a painful and expensive process, it remains out of reach for many, with social and professional consequences. But one Kentucky tattoo parlor has found a creative solution, continuing the good work of others in recent years.
Last week, Murray's Gallery X Art Collective posted an offer on Facebook to cover up any racist, hateful or gang-related tattoos for free, and in the first week they received 30 requests. Owners Jeremiah Swift and Ryun King say they were inspired by the Black Lives Matter movement to do their part to end discrimination and support those who have had the courage to leave their hateful past behind.
Tattoos that keep people from living a normal life.
Many people, when they were younger, didn't know what they were doing and ended up with mistakes on their bodies. We just want to make sure everyone has a chance to change, » Jeremiah told CNN.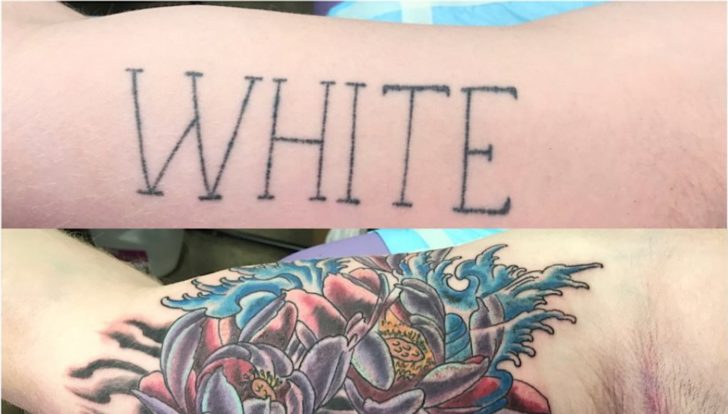 Until now, the sympathetic tattoo artists have covered a large swastika on a man's chest – which embarrassed him so much that he never took off his shirt in front of his children – and they have reinvented a man's arms which had been completely covered with symbols of hate.
A release for the beneficiaries.
Their first client was a woman named Jennifer Tucker. Now a mother of two, she regrets the Confederate flag tattoo she got when she was 18. She attributes this youthful mistake to having grown up in an all-white neighborhood where the flag was often hoisted with pride.
It was only when she left her hometown and became involved in peace movements to end racial injustice that her mind was opened. « Every time I attend a group meeting or demonstration, I make a new friend, » she told CNN. « And I don't want to stand next to them with a Confederate flag on my leg. »
Tattoo saviors à la « Tattoo Cover. »
Thanks to Jeremiah's creativity, what was once an emblem of hate has been converted into a humorous conversation starter: a cartoon character called « Rick-gorkin » by Ricky and Morty.
Jeremiah and Ryun's excellent work stems from the same mindset, as evidenced by a tattoo parlor that made the same offer to the people of Maryland. In 2017, Southside Tattoo was given the responsibility of looking after people who wanted to conceal similar tattoos for six months. This inspired the owners, Elizabeth and David Cutlip, to create the Random Acts of Tattoo Foundation to create and fund a network of artists from around the world interested in helping people make a fresh start. If you would like to support their work, here is their page GoFundMe.